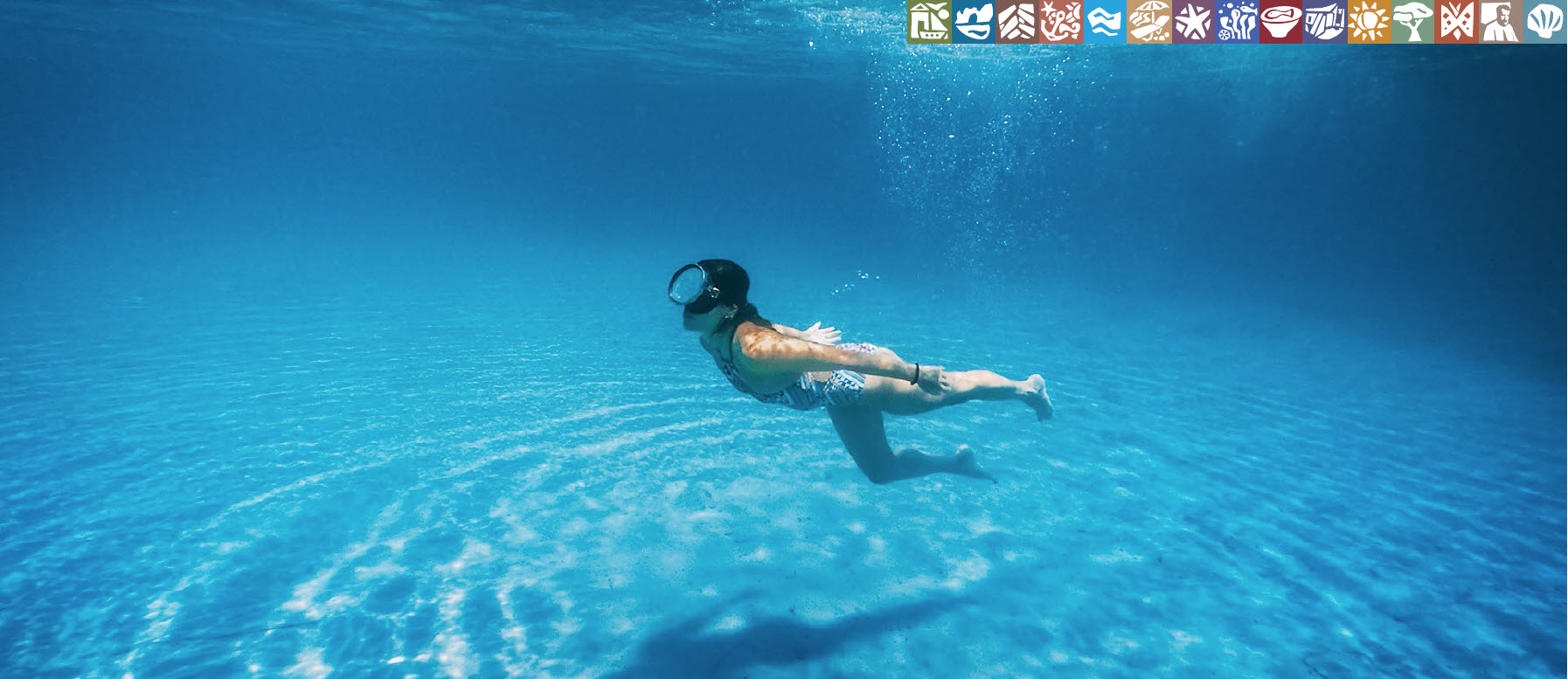 Diving
Diving in the crystal-clear waters of Skiathos is an experience of a lifetime, since you can dive with experienced instructors into reefs, shipwrecks, caves and other attractions of the magical Mediterranean seabed.
The bright crystalline blue, the great temperature of the sea
in the summer (26-20 oC), the high visibility (the light coming
from the surface creates beautiful reflections and helps
you see even without the use of torches) as well as the very
well organised diving schools of the island will offer you an
unforgettable experience.

Diving in Skiathos is for everyone: young kids with goggles
can observe the life in the shallow sea, beginners will enjoy
snorkelling and the certified and experience divers can visit
reefs, shipwrecks, free dive in waters up to 10 meters deep or
even night dive.

If you 're looking for a beautiful and safe experience, get
in touch with a certified diving centre, which will provide
you with all the necessary equipment and take you to the
appropriate diving spots. Even without previous experience,
there is diving for novices in shallower waters, obviously
under the supervision of and accompanied by an experienced
instructor.
The famous photographer Francesco Pacienza, with the help
of the diver Panagiotis Diolettas, has taken many pictures
of incomparable beauty of the huge meadows of Neptune
grass, the bentonite rocks which are completely covered
with the lively colours of sponges, spectacular colonies of
impressive corals (red, golden and less frequently black ones)
and a multitude of colourful fish and other species. After all,
there are more than 300 different types of fish and tiny sea
organisms in the islands of the Sporades Archipelago.

The leaves of the Neptune grass have very bright green
colours and can reach a height of up to a metre. It lives in
sandy seabeds 1 to 60 meters deep and it offers much to the
ecosystem: it retains sand via the deeply rooted system that
prevents coastal corrosion and breaks the movement of waves
that otherwise would reach the shore much more forcibly.

Moreover, the thick foliage of the meadows offers food,
refuge and places to deposit eggs to many organisms, such
as sponges, worms, clams, crabs, shrimps and prawns, octopi,
cuttlefish, turtles, urchins and fish, while many types of algae
attach themselves to the Neptune grass's wide leaves.