Days of honour and commemoration
Skiathos island maintains centuries old cultural behaviours
and customs which aren't presented as tourist attractions
but instead constitute an integral part of the everyday life of
residents and visitors.
The celebration of the 21st of November is a religious event
of great importance since
Panagia (Virgin Mary) Iconistra
is the patron protectorof Skiathos island. With faith and devotion,
the icon of Panagia is transferred through a procession from the
Three Holy Hierarchs Church, the place where it is kept, to the
Monastery of Iconistra, the place where it was found. The
image is transferred from hand to hand and a large crowd
accompanies it on foot, along a route that takes about three
hours. A Vigil follows and in the early hours of the morning,
the icon returns to town, followed yet again by the faithful.
Another celebration of behalf of Iconistra is held on the first
Sunday of July.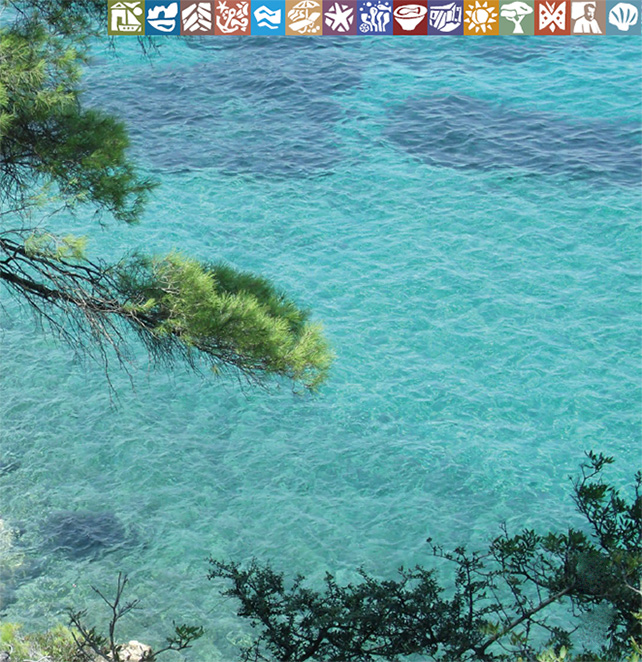 The aubade and the Candlelight Vigil of the 25th of March are customs born during the Turkish Rule. They combine the Resurrection of Christ with the resurrection of the Nation; the holy light draws a parallel to the light of freedom.
Easter is particularly interesting: On Holy Thursday, after morning church and communion, kids return to their homes holding crosses made of reeds and decorated with rosemary, violets, roses, lilies and poppies and they sing the Easter carols.


On Good Friday, the Typikon of the Holy Mount of Athos is observed. The Epitaphios Service begins at 1 o' clock in the morning and the procession starts at 4 o'clock in the morning in a devout atmosphere passing through the cobbled paths of Skiathos town.
A typical folk song of the island is "Kamara" traced back to the Middle Ages. It is danced by women wearing the formal costume on the celebration of Zoodohos Pigi (Life-giving Spring). The song is a variation of the haunted "Bridge of Arta", with the same melody, the same reprises and a chorus. When the town of Skiathos was moved to Kastro, "Kamara" was danced on the rooftop of Kastro.
The miracle of Skiathos being saved from utter destruction is commemorated on the 23rd of August. On the morning of the 23rd of August 1944, the Germans invaded the island to burn it to the ground and to execute all its residents in retaliation. They set fire to everything they saw but during the sunset of that hot day, suddenly there was a storm outbreak. The storm extinguished the fire before it could destroy everything. And that's not all: the next day, the weather took a worse turn, something very uncommon for the time of year, preventing the German cruisers from approaching the island. Moreover, the flames enveloped the Three Holy Hierarchs Church, where the icon of the Virgin Mary Iconistra is kept to this day, but both the Church and the icon remained intact.
 "Katsonia" is celebrated in mid-September. "Katsonia" is the commemoration of the sinking of the legendary "Katsonis" submarine which was rammed by the Germans off Kastro in 1943, taking with it in its watery grave the Captain, Vasilis Laskos, 5 officers and 26 NCOs.