Holy Monastery of Panagia Kechria

The deserted monastery of Panagia Kechria is named after
the area where it's located: on the northwest, at an altitude of
100 meters, at the slope of Aradias which is covered in olive
and plane trees. To reach the Monastery one has to climb
the hill of Agios Konstantinos and then descend towards the
stream of Kechria.

The Monastery is built in dedication to the dormition of
Panagia and it is celebrated on the 23rd of August. It is a listed
building, under the protection of the Ministry for Culture. The
first lines of the poem "At Panagia Kechria" by Papadiamantis
are devoted to the beauty of nature around the monastery
and the lovely dome of the catholicon. Closer to the medieval
town than the modern one, the monastery thrived alongside
it and experienced the problems the locals were facing during
the Turkish rule.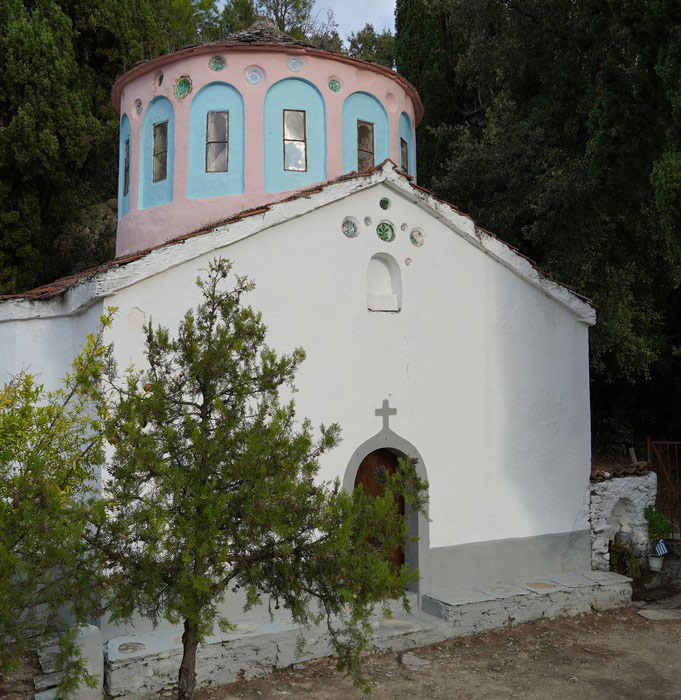 The catholicon today remains intact but all other areas have collapsed, possibly because of a ground cover collapse. Its two cells were built relatively recently on the old foundation. Even though the murals have been worn down due to humidity, they manage to maintain their morphology. Their themes (plants, birds and animals) and technique are very good artistically. According to the catholicon's inscription, it was renovated in 1738 -maybe along with the rest of the monastery- and its iconography was done in 1745. Thus, the Monastery of Kechria must have been created earlier, during the 17th century, potentially even the 16th one.