Agios Ioannis Krifos - Parthenis (Saint John Concealed)

In an area of the northwest of Skiathos full of pines, close to
the Monastery of Iconistra, in Mikros Aselinos, there used to
be a small monastery. What's left of it today is the catholicon
-celebrated on the birth of Agios Ioannis Prodromos-, remains
of its surrounding walls and three deserted monastic cells. It
is located on an altitude of 150 meters, and it's known to the
locals as "Ai Giannis Kryfos" (due to its remote location) or "Ai
Giannis of Partheni (Parthenis was the name of the Skiathian
monk that according to tradition was the founder of the
Monastery).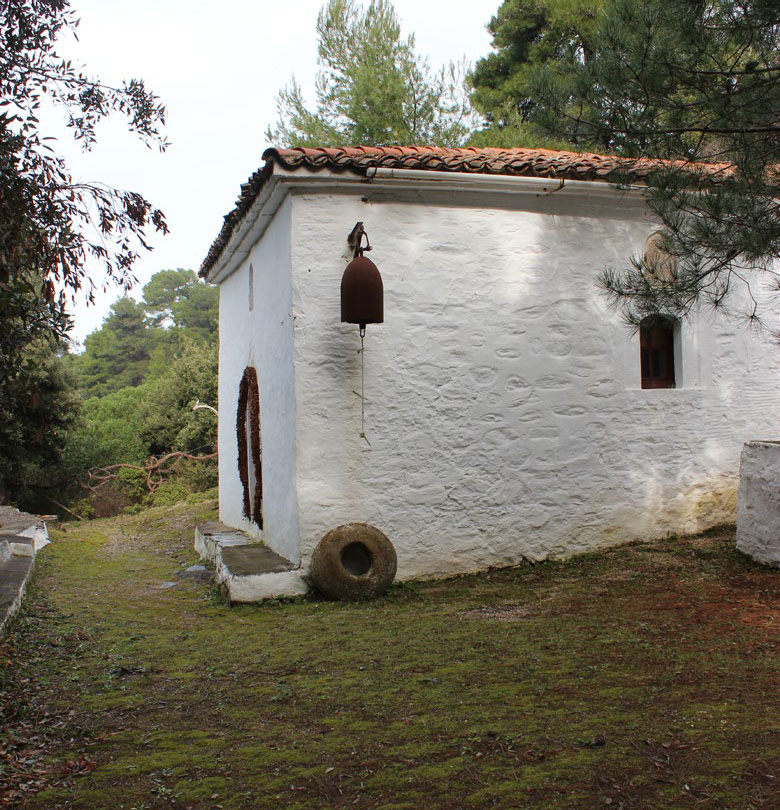 At "Daskalio", an area half a kilometre east of the Monastery, there are remains of a building that according to tradition used to be the school of the island during the Turkish Rule, where the ones to teach were the monks of Ai Giannis. Today, the external walls of the cells are standing, created according to an inscription, in 1895 by Moraitidis on the foundations of the original ones. Moraitidis was the last one to restore and renovate the Monastery. The wooden altarpiece is simple and it was built during that last restoration to replace the original one. The murals don't have a special style, they are rather mediocre in style, inferior to the murals of Christo sto Kastro. Construction of the Monastery is estimated between the end of the 16th century and the middle of the 17th century.