Three Holy Hierarchs Church

The other parish church of Skiathos is celebrated in the
memory of the Three Hierarchs and it has been the Cathedral
of the modern town of Skiathos for more than 150 years. It is
located almost in the exact centre of the town and closer to
the sea than the church of Panagia is. At the spot where it was
built there was a small church, dedicated as well to the Three
Hierarchs. That church was knocked down to be replaced by
today's majestic structure that was built to accommodate the
more than 2000 residents of that time.

Its marble iconostasis is a rare and excellent specimen of
gothic revival in Greece. Its form, albeit incompatible with
the wood carvings traditionally found in orthodox churches,
doesn't seem foreign but, instead, it is an integral part of the
decoration of the church, in a way enforcing its presence.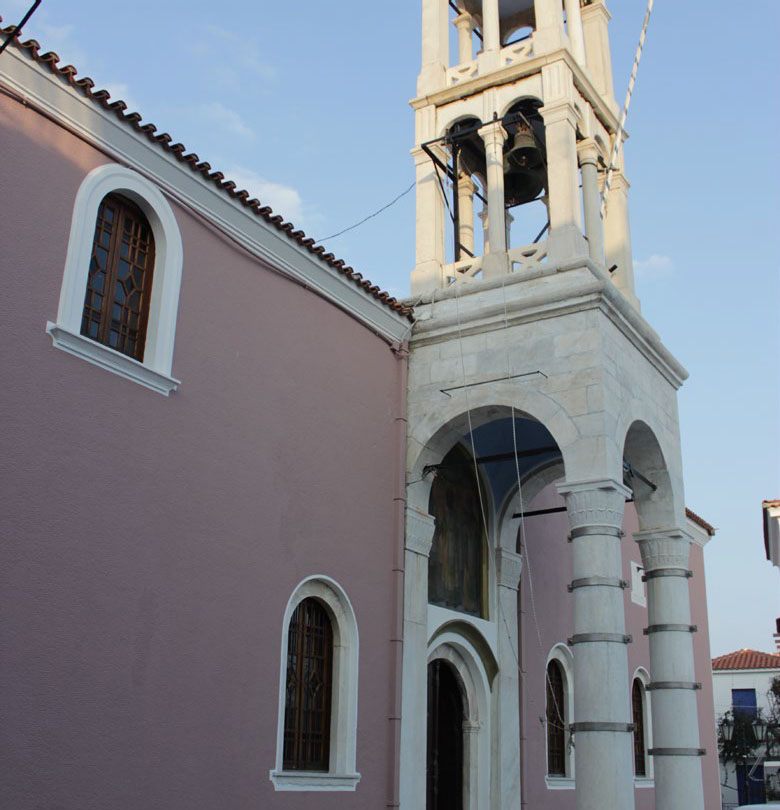 On the outside, the church appears less "heavy" than the one of Panagia due to the division of its roof in two levels. Thus, while the Three Holy Hierarchs Church stands just a meter higher than the church of Panagia, it looks much taller. The disproportionally imposing and looming bell tower emerges from the south side. It seems that the idea to build a majestic Cathedral worthy of Skiathos had ripen at the time of its construction. The church of Panagia already exists on the «neighbourhood above» but it looks like the «neighbourhood below» needs a big church, meant to also be a cathedral. Thus, the survey and construction are more meticulous. The names of those who worked on it are not known, except for the one of the supervisor. An inscription informs us that it was built in October 1846, at the expense of all the residents.
The Three Holy Hierarchs Church is home to the icon of Panagia Iconistra discovered in 1650. Panagia Iconistra is the patron-protector of the island and both locals and visitors often pay homage to this sacred icon. Many of the sacred relics of the entire country as well as a lot of icons of great archaeological value have been transferred to this church, where they are stored, displayed and preserved in pristine condition.
The church upholds the cultural heritage of the island, since it had the privilege to be served by patient and great priests and cultural leaders such as the priests Adamantios (father to Papadiamantis), Nikolas Papanikolaou, Andreas Mpouras and others always guided by Georgios Rigas, an exceptional philologist and writer of Skiathos.