Panagia Limnia – Parish Church of the Nativity of Mary

The Nativity of Mary or Panagia Limnia was built after
the Greek revolution of 1821. This church and the Three
Holy Hierarchs church are the only noteworthy religious
monuments to be built after the settlement of the residents
of Skiathos in the modern town in 1829, in places where
churches preexisted. It is called "Limnia" because the first
inhabitants of the area where the church is, and founders of
the church, came from the area Limni in Euboea.

In 1784, people from Limni settled in the area bringing with
them the icon of their patron saint, the Nativity of Mary. They
put the icon in the small church of Agios Charalambos which
was later completely renovated and become the Parish Church
of Panagia Limnia.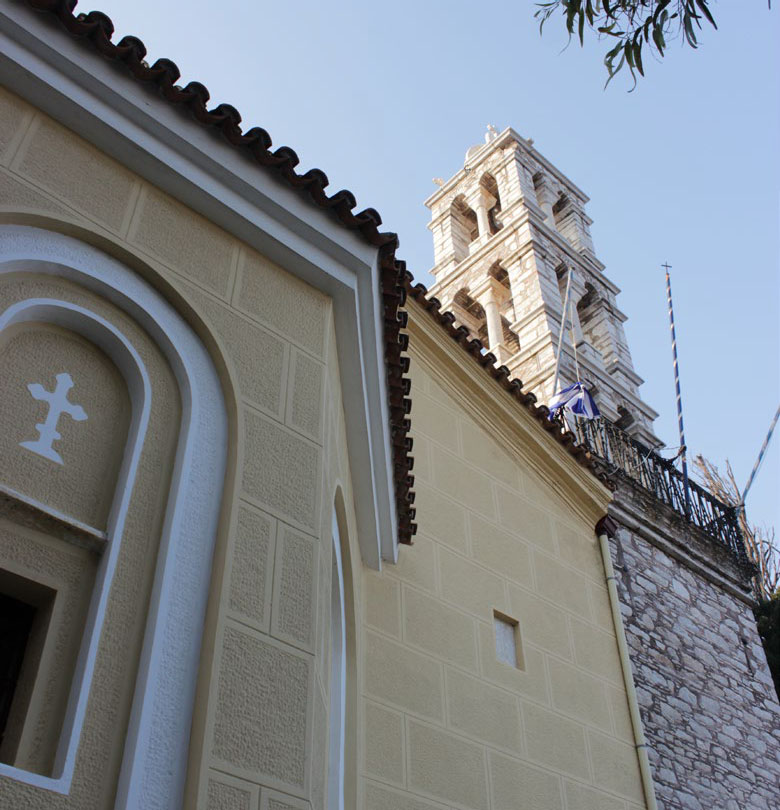 The wall of the ancient town of Skiathos stretched from the outskirts of the church heights until the coast of Ai Giannakis (Saint John).
Panagia Limnia has all the decorative features typical of churches of that time. Most of these are not the traditional ones - the ones adorning the churches built before or during the Turkish rule, clearly influenced by classicism. There are few murals influenced by western standards such as the ones with which the lords wanted to decorate their homes. There is also a lack of depiction of byzantine saints.
At the time of the church's construction, Skiathos is already liberated, it is being rebuilt and the financial situation is improving. In this context, the construction of a great, rich and imposing church is imperative. Thus, select materials are chosen for its construction by craftsmen bringing in new designs. An inscription informs us that the church was built by Theodoros Mosxos, an architect from the north of Greece, and that it was financed by shipowners as well as by anonymous citizens of Skiathos. Therefore, a technical expert, supervised by locals, was in charge of the construction who delivered the designs and the study of the building. Thus, we come to the conclusion that the construction of the church was a public matter and it didn't have to do with just one or a few people or even the clergy. A different inscription informs us that the building dates to December 1838.
The parish of Panagia keeps the customs and traditions of Skiathos just as alive now as they were in the works of Alexandros Papadiamantis and Alexandros Moraitidis.