Holy Monastery of The Presentation of The Blessed Virgin
Mary - Panagia Iconistra

The Monastery of Panagia Iconistra can be found on the most pine-covered area in the west part of Skiathos, 13 kilometres off the town, at 200 meters altitude. It is on the road leading to Mikros Aselinos, one of the northwest coasts of the island. The Monastery of Iconistra is the holiest part of the island since it was there that the miraculous Icon of Panagia was found in 1650. The locals call the Monastery "Kounistra" (the moving one), as the Icon of Panagia was found by hieromonk Symeon dangling off a pine branch. Panagia Iconistra is the patron-saint of Skiathos, celebrated on the 21st of November, and guarded today at the Three Holy Hierarchs Church.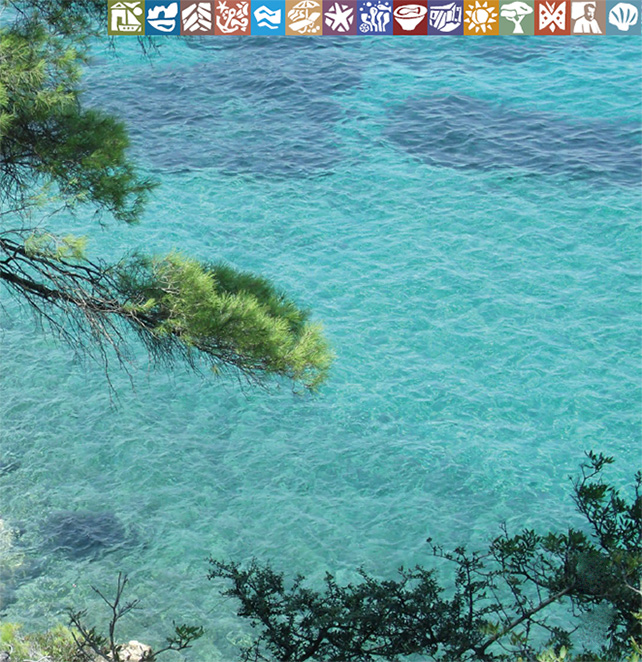 Most of the Monastery's structures- apart from the Catholicon- were constructed at the end of the 19th century. There is very little information available about the initial structures. The spring outside the Monastery's west side was created mid-19th century by the Elder Dionysios, an exceptional spiritual personality of not only Skiathos but the entire Greek Orthodox Church. Externally, there is nothing distinctive about the catholicon except for its dome, but its inside is fully embellished. That said, due to the lack of ventilation, the humidity and the candle smoke have destroyed some murals and tarnished others. Thus, the shapes of the Saints are indiscernible apart from those that are placed higher. The altarpiece is artistically splendid, in bold relief and with baroque elements, though outdone by the folk woodcarving ones. The construction in general is not considered meticulous or precise.
The Monastery was used as school during the Turkish Rule. Judging by the chronicle of the Icon of Panagia discovered in the mid-17
th
century and by two inscriptions informing us of the catholicon's restoration in 1726, the catholicon must have been built during the last quarter of the 17
th
century.