Christos sto Kastro (Jesus in Kastro)

The church of the Birth of Christ, or Christos sto Kastro, is
almost in the middle of Kastro, the medieval town of Skiathos.
During the Turkish Rule, a time when the town thrived, it was
the Cathedral of the town. It is the biggest and decoratively
richest church of Kastro, which can be expected considering
Skiathos was the see of the Bishop of Sporades until 1725.
The limited renovations that were taking place from time to
time haven't really changed the church. Its entrance today
(from a door to the west) is different than the old one that
is nowadays walled in. While the church as a whole is austere
and modest, its walls are adorned by notable murals with
the whole body of Saints or miracles or the life of Saints.
They also stand out for the movement, expressiveness and
proportionality of the shapes they depict. The decorative
elements are similar to the ones in other Aegean islands'
churches that were built by 1700.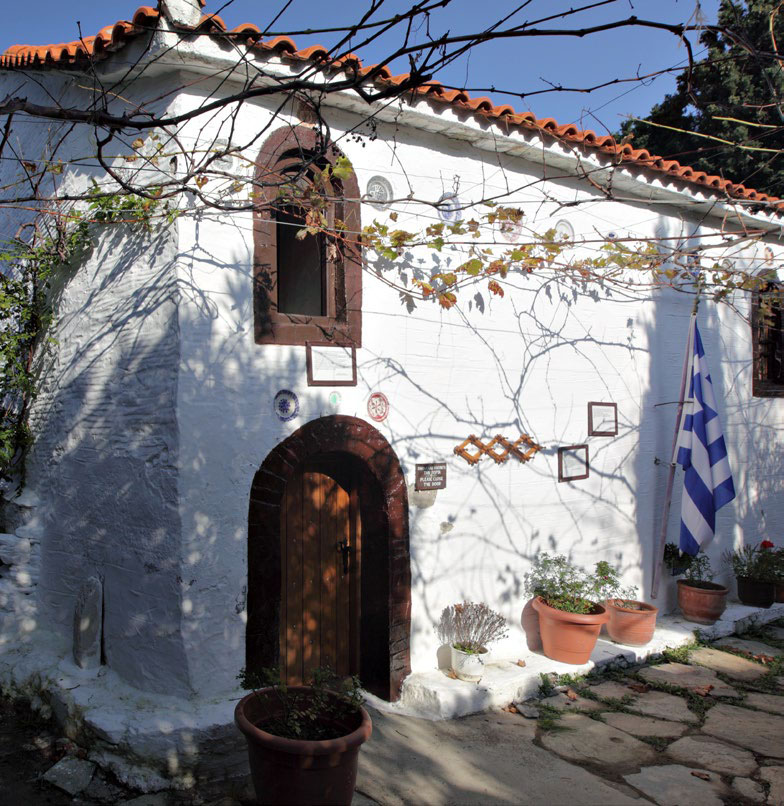 Christos sto Kastro was created around mid-17th century and was quite frequently renovated. Nonetheless, the initial temple was built much sooner since it was the Cathedral of Kastro in the 14th century.

A vigil is held in Christos sto Kastro twice a year: on the day of the Transfiguration of Jesus, 5th to 6th of August and on the third day of Christmas, 26th to 27th of December, weather permitting.

There is a spring and many trees in its courtyard. The church is mentioned in many of the novels of Alexandros Papadiamantis and Alexandros Moraitidis.